ERFURT
The state capital surprises its guests at every corner with the largest contiguous medieval city centre in Germany. Highlights include the Krämerbrücke, which is the northernmost bridge to feature buildings and be inhabited, the Old Synagogue, the cathedral square, the Petersberg fortress and the Domberg with the cathedral and the church of St. Severi. Patrician houses from all architectural eras display the former wealth of the city and form the ensemble of the Anger shopping district. Cosy cafés, superb restaurants and numerous attractive shopping options all tempt the visitor to stay longer. Artists and students breathe life into the city, where there is always something new and worthwhile to be discovered. Goethe marvelled at Thuringia, declaring, "Where else can I find a place with so much that is good!". The same can also be said of Erfurt. Reformer Martin Luther once stated: Erfurt "lies in the best location. A city must stand here."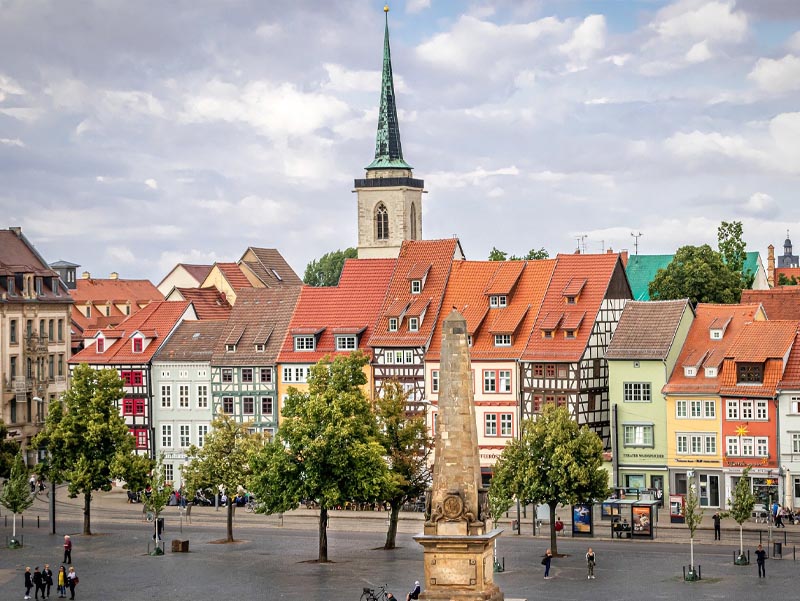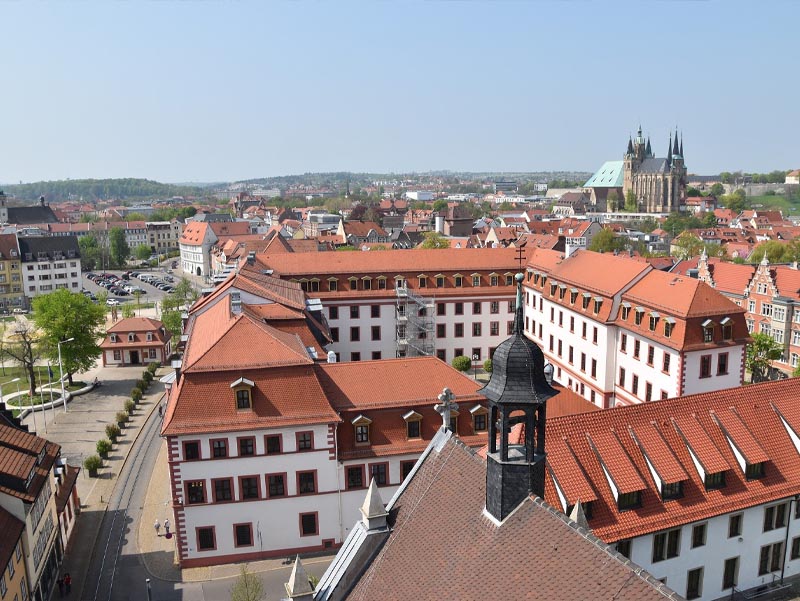 From now on, Erfurt is officially part of the World Heritage Site. The approval of the 21 members of the World Heritage Committee on 17 September 2023 in Riyadh, the capital of Saudi Arabia, means no less.
" Jewish-Medieval Heritage Erfurt " are the Old Synagogue, the Mikveh and the Steinerne Haus. Further information can be found here.

We invite you to gain your own impressions of the Thuringian capital Erfurt. The remarkable sights can be discovered on an exciting guided tour of the historic old town, accompanied by anecdotes of the history of Erfurt.
Together with the Zoopark and the EGA, the Stadtwald Steiger municipal forest and the belt of urban parks form the green lungs of the city and are the ideal place to relax.
Annual events in Erfurt:
| | |
| --- | --- |
| Month | Name of event |
| January | IBU World Cup (in Oberhof) |
| February | Carnival procession through the city centre |
| March | Thuringia Exhibition / Riding Hunting Fishing |
| April | Spring Market |
| May | Töpfermarkt ceramics market, Rennsteiglauf run |
| June | Krämerbrückenfest festival |
| August | Domstufenfestspiele festival |
| September | Reisen & Caravan exhibition |
| October | Oktoberfest |
| November | Apassionata |
| December | Christmas market with over 200 stands |
Annual events in Erfurt:
A detailed event calendar can be found here:
www.Veranstaltungskalender-Erfurt.de
In addition, numerous other fairs, events and concerts also take place in the Messe Erfurt exhibition centre.
The latest information regarding this can be found here:
Service
Hospitals,
emergency chemists
Surroundings
Destinations to visit
Erfurt and surroundings