Excursion destinations around Erfurt
Molsdorf Castle
Molsdorf Castle is a baroque castle in Molsdorf, a district of Erfurt. It is located not far from the Erfurt motorway junction, about 12 kilometres south of the city, and is considered one of the most beautiful baroque castles in Thuringia.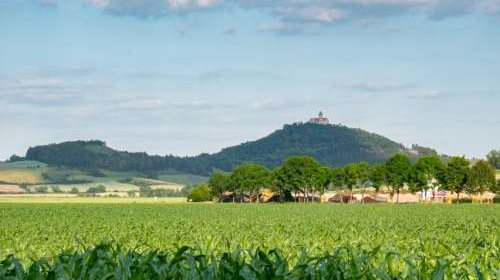 Burgenland Drei Gleichen
Not far from Erfurt's city limits stretches the Thuringian castle country of Drei Gleichen, which is well worth seeing.
Friedenstein Castle
The "Baroque Universe Gotha" is a cultural attraction with Friedenstein Palace (Eckhof Theatre) and the Ducal Museum. Once upon a time, intellectual giants such as Voltaire and Goethe and world-renowned statesmen such as Emperor Napoleon and Prussian King Frederick the Great frequented the Gotha court. Tradition and modernity meet at every turn in the former capital of the Duchy of Saxe-Coburg-Gotha.
Weimar
Weimar, the European Capital of Culture 1999, was home to many great personalities: Goethe, Schiller, Herder, Bach, Liszt, Wieland, Cranach, van de Velde or Gropius as founder of the Bauhaus. Numerous museums and memorials in Weimar recall these names and bear witness to the glory of times gone by. Even today, the city is a centre of art and culture. For generations, Weimar has attracted guests from all over the world with its famous bronze monument to Goethe and Schiller in front of the German National Theatre and many museums and exhibitions.